Everything you need to know about Australia's 1930 penny
Mar 24, 2023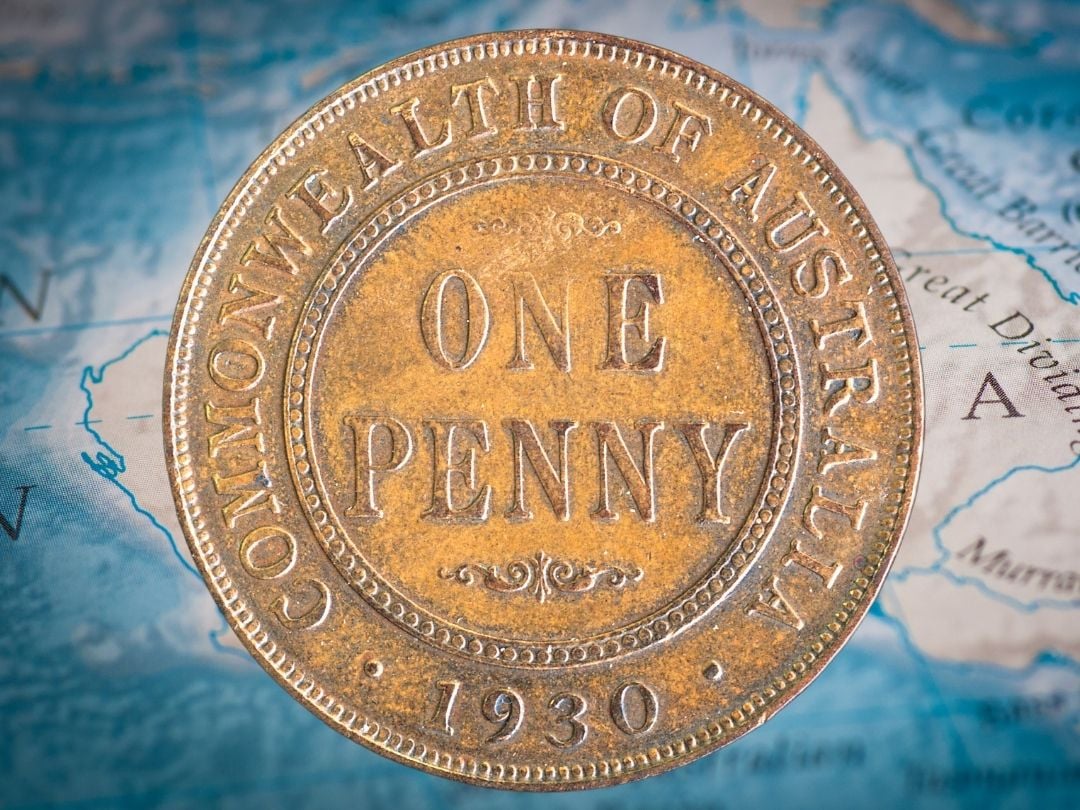 It's only a humble penny, but it's Australia's best-known rare coin.
We're talking about the 1930 penny, a coin that's captivated not only serious collectors, but the general public for decades.
Some reading this will have experienced a pensive "what if…?" feeling while eagerly sorting through a jar of old coins, perhaps left to them by a relation. With cursory interest in each piece, what they really want is to turn over the elusive 'coin that never was'.
Prices, especially for ones that remain in outstanding condition, can be eyewatering. Tens or even hundreds of thousands of dollars. Just imagine the elation!
If you ever come across a 1930 penny, here's what you need to know.
Shrouded in mystery
Fascination with the modest copper coin stems from the mystery shrouding its minting. The Melbourne Mint's records indicate that no pennies were struck for circulation in 1930 due to the reduced demand for coinage at the beginning of the Great Depression.
However, some coins most definitely were produced, probably to test the Melbourne Mint's 1930-dated dies, and these coins were thought to have been released into circulation with the 1931 issue.
It was not until the 1940s, however, that their existence became apparent, with the mintage subsequently estimated to be between 1,500 and 2,000 pieces.
Once the media caught wind of the story in the 1960s, the increasingly famous penny attracted widespread publicity. Contemporary newspaper headlines like 'A Penny could be worth £500' whipped the nation into a frenzy as people rushed to get their hands on these rare pieces at rapidly escalating prices.
Six 'proof' pennies were also made in Melbourne featuring the sharpest detailing and finest finish. Rather than for circulation, these 'show' pieces were prepared for safekeeping by public institutions, which is where half this number remain today – the Museum of Victoria, the Art Gallery of South Australia, and the British Museum.
The remaining three are in private hands. In 2019, a Sydney collector was reported to have paid AUD 1.15 million for a 1930 proof penny, ranking it as the nation's most valuable coin.
Grading and price
In all honesty, there's only a faint chance that you will come across an undiscovered circulating 1930 penny. If you're lucky enough to discover one, however, it will be an important and potentially valuable find. The key thing to understand is its value will be directly dependant on condition. In other words, the amount of wear and tear evident.
Numismatists and coin dealers grade coins to indicate their strike quality and state of preservation. From the crème de la crème proof quality at the top of the scale, the system includes numerous lesser classifications, including the esoterically named 'fleur de coin' and 'gem uncirculated'. Somewhat misleading, a coin graded 'very good' is actually not very good at all!
To the initiated, each grade is a precise reflection of the coin's level of wear. To those unfamiliar, a quick way to get a feel for the coin's condition is to check areas most likely to show wear – such as the 'diamonds and pearls'.
Diamonds and pearls
Australian pre-decimals dated 1911 to 1936 bear a crowned effigy of King George V on the obverse (heads). The design was created by Melbourne-born Sir Edgar Bertram Mackennal - the first Australian artist to be knighted.
His work portrays the King wearing the Imperial State Crown. The Crown's band features representations of precious stones – an area often referred to as the 'diamonds and pearls'. As a raised part of the design that's particularly vulnerable to wear, it can offer a great indication of the coin's overall condition.
If you ever discover a 1930 penny – congratulations. If the central diamond is visible and you can make out the pearls (which are arranged in pairs one on top of each other), this is an extraordinary find! But before popping the champagne cork, consider the possibility that it's a forgery.
Two obverse dies
A surprise for most people is the fact that two different types of the 1930 penny were struck – one with a 'London' obverse, the other with an 'Indian' obverse. This means they were struck with dies made from master tools fabricated at either the Royal Mint in London, or its overseas branch in Calcutta (as Kolkata was known at the time).
The Indian obverse can be identified by examining how the legend aligns with the outer beading: the final upstroke in the 'N' of 'OMN' sits neatly in line with an outer rim bead, whereas the same point on coins struck with the London die align between the outer rim beads. The colon following 'IMP' is consequently aligned between two beads, rather than in line with one as on the London die.
Only one reverse die has been observed for the 1930 penny – that struck from the London die.
According to rare coin specialist Andrew Crellin, only a handful of 1930 pennies struck with the London obverse die have been verified by experts. "If a 1930 penny has the London obverse, chances are at least 1,500 to 1 that it is a forgery," he says.
Fake 1930 pennies
Amateur and professional counterfeiters alike have turned their hand to producing this popular Australian icon, and many collectors have been deceived over the years.
What other clues should raise suspicions?
An unnaturally bright surface is an instant giveaway. After all, the patina of a genuine coin (colours resulting from natural oxidation) has taken more than 90 years to mature.
A questionable looking year-date can be just as telling. Altered 1920 pennies are usually easy to spot. Australian pennies issued between 1931 and 1936 tend to have the last digit removed and replaced with the 'O' from 'COMMONWEALTH', or a '0' from another coin altogether.
"The zero in the date of a genuine 1930 penny will exhibit a fat and wide 'O', while most forgeries tend to show a more elongated '0'," says Andrew. "Any visible evidence of tampering with the coin, such as a slight difference in surface colour or any scratch, dent or mark around the date should give cause for caution."
Wise advice
Although these points are helpful when it comes to authenticating a 1930 penny, they should not be relied upon alone to guard against counterfeits and forgeries. If you think you've found the 'king' of Australian coin rarities, or are looking to buy or sell a 1930 penny, ensure you deal with a member of the Australasian Numismatic Dealer's Association (ANDA), who are experienced dealers bound by a strict Code of Conduct.
Credit: The Perth Mint thanks Andrew Crellin of rare coin dealer Sterling & Currency for assistance in preparing this article.