Start your pre-decimal collection with the first Commonwealth coinage
Jan 24, 2023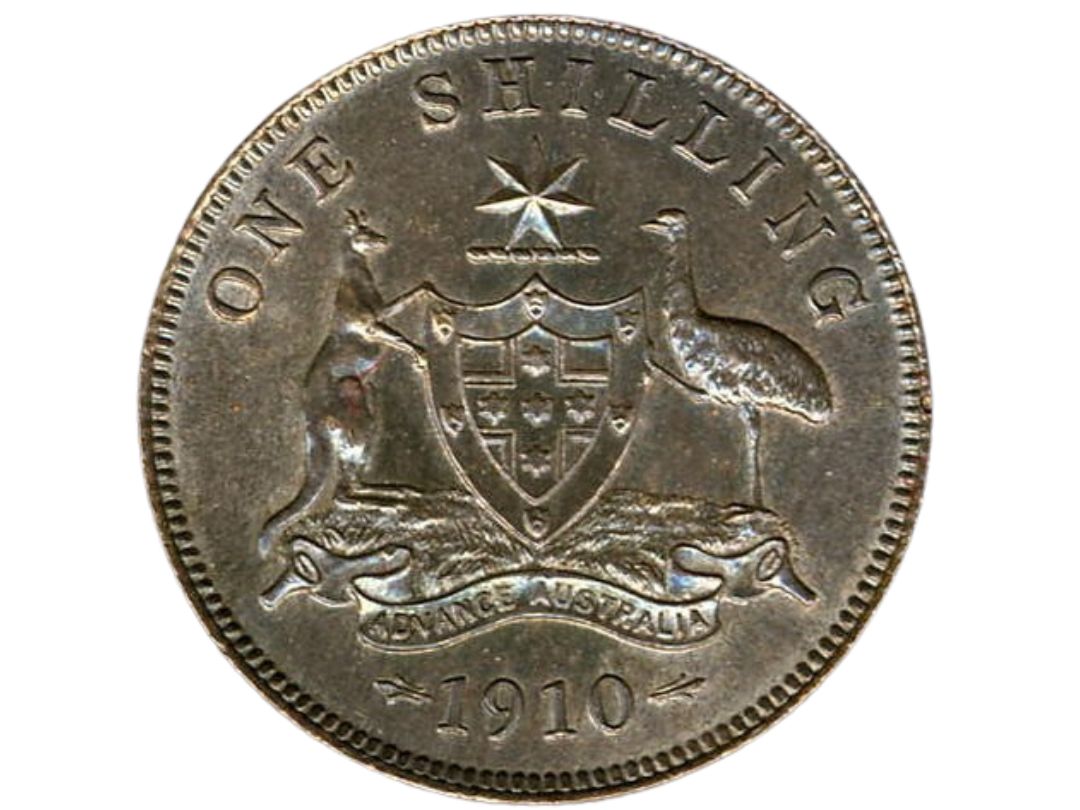 Wondering what to collect when it comes to coins? Finding examples of Australia's first Commonwealth coins could fit the bill. The idea of owning any 'first' is always appealing, but these coins are interesting for a host of reasons.
The Commonwealth of Australia was founded in 1901, at which point the new Federal government in Melbourne (later Canberra) took over responsibility for the affairs of the country, including its currency.
A distinctive Australian coinage was highly anticipated, but it took a while to get things organised, and it was not until the 1909 Currency Act that they finally got moving.
Prior to the introduction of Commonwealth coinage, Australia imported standard circulating coins of the United Kingdom. Although the Royal Mint operated branches in Sydney, Melbourne and Perth, these institutions were primarily set up to produce £1 gold sovereigns.
The new legislation opened the doors for the issue of Australia's own coinage based on the UK's pounds (£), shillings (s) and pence (d) system. Provision was made for a range of gold denominations; they were never made although Australian-produced sovereigns featuring an 'S' mintmark continued until 1926, and with 'M' and 'P' mintmarks up until 1931.
Silver denominations
Instead, the new Commonwealth specie comprised a florin, shilling, sixpence and threepence, each made from "Thirty-seven fortieths fine silver, three fortieths alloy; or millesimal fineness 925". Additionally, there would be a new penny and halfpenny comprised of "Mixed metal, copper, tin and zinc".
Because the Australian branches initially lacked tooling to make Commonwealth coins, the first silver pieces were struck in London. Royal Mail Ship Otranto berthed in Sydney on 1 March 1910 with a consignment of silver shillings on board. The other silver denominations arrived later that year.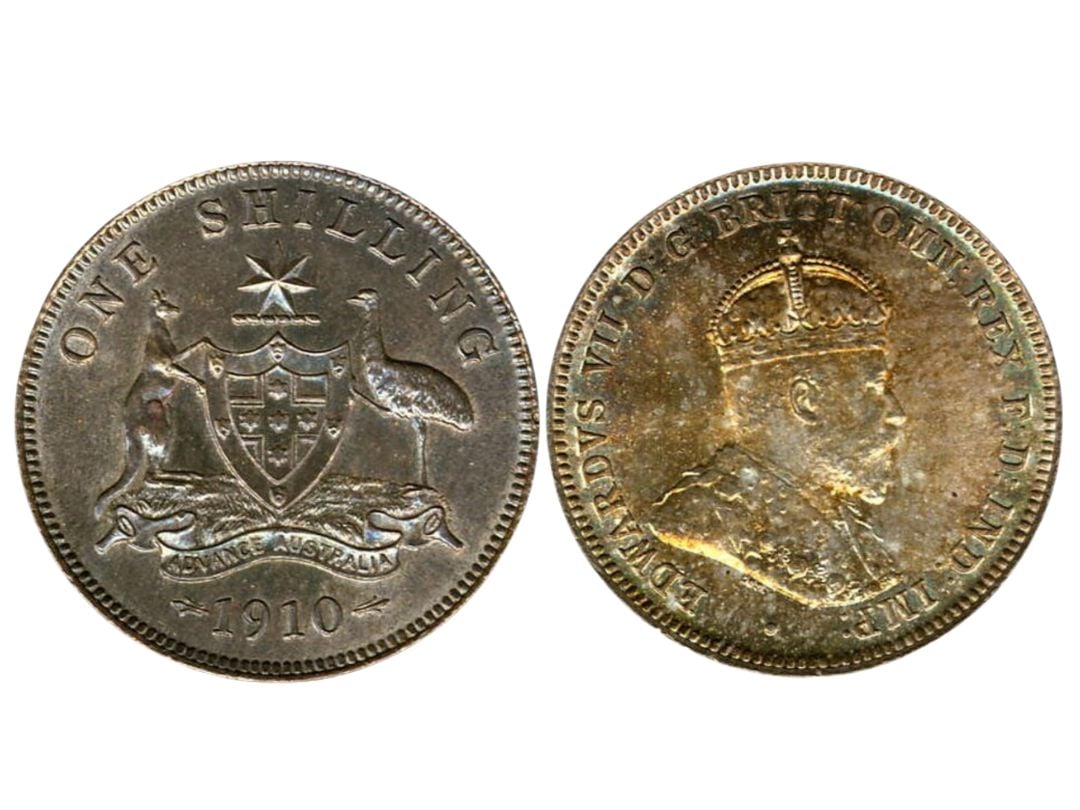 Museums Victoria — Licensed under Creative Commons — Creative Commons — Attribution 4.0 International — CC BY 4.0
Dated 1910, they bore a representation of the first Australian Coat of Arms. Granted by King Edward VII in 1908, it comprised a kangaroo and emu supporting a shield, a crest containing the seven-pointed star of Federation, and the motto 'ADVANCE AUSTRALIA' at the bottom.
A bust of the aforementioned monarch by George W. de Saulles appeared on the obverse. But by the time the second shipment had arrived, Edward was dead.
These coins are wonderfully historic pieces. Representing a milestone moment in the development of Australian coinage, they record the first armorial bearings to the Commonwealth of Australia.
Made from sterling silver, they hark back to an era when the value of circulating coins was directly related to precious metals.
And with the King's death, each denomination is a single-year type, of which 1.259 million florins, 2.536 million shillings, 3.046 million sixpences, and four million threepences were brought into existence.
Bronze denominations
King George V ascended the throne on 5 May 1910 and his effigy was prepared in time to stamp the Commonwealth coinage for 1911. They now included an Australian penny and halfpenny. Pressed in London, the design featured 'ONE PENNY' or 'ONE HALF PENNY' inside a beaded inner circle, with 'COMMONWEALTH OF AUSTRALIA' shown between the inner circle and the rim.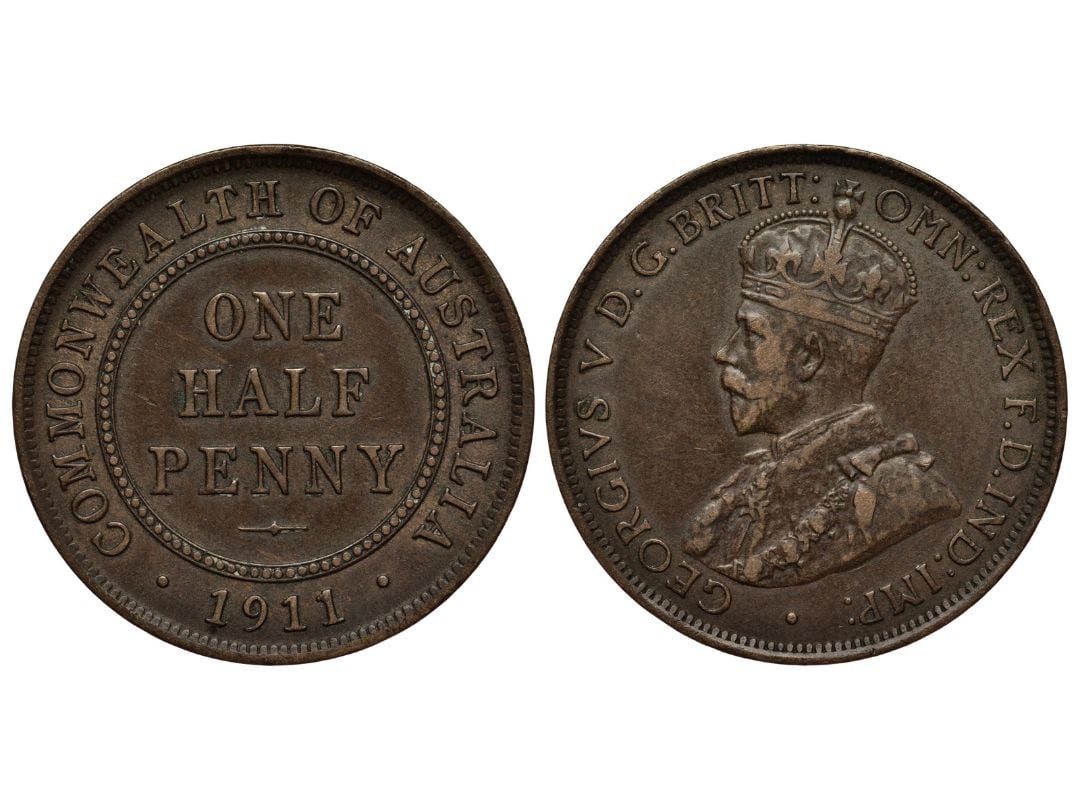 Shutterstock.com 613405778
The obverse of both pieces portrayed a crowned effigy of the new King by Sir Edgar Bertram Mackennal, who has been described as the most significant Australian sculptor of the nineteenth and early twentieth centuries. (He was also responsible for George V's uncrowned effigy on all UK coins).
Mackennal was born and studied in Melbourne before undergoing further training in England and France. His rise to prominence earned him copious numbers of prestigious commissions from royalty and social elites. He was famed for memorial sculptures throughout the Empire and also designed medals for the 1908 London Olympic Games.
In 1910 Mackennal produced the Coronation Medal for King George V which helped win him the important commission for the obverse design of the new coinage.
Australians had, therefore, particular reason to be proud of their new coins. As rare coin dealer Andrew Crellin has said: "Many Australians took the appointment not only as the ultimate recognition of his ability as an artist, but also as a de facto acknowledgement of the entire Australian nation."
Mackennal became the first Australian artist to be knighted when the King conferred a Knight Commander of the Victorian Order on him in 1921.
Coin collecting journey just getting started
Collectors who succeed in acquiring examples of all six of these pre-decimal coins will surely find themselves becoming thoroughly absorbed in the topic. Between 1916 and 1963, subsequent year dates were produced in London, Australia, Birmingham, Calcutta, Bombay, San Francisco, and Denver! An absorbing process of identifying various mintmarks used to distinguish many of these issues awaits the budding numismatist.
And even then this collecting journey is only just getting started. Struck with four monarch's heads, it includes the introduction of iconic 'kangaroo', 'wheat sheaf' and 'merino ram's head' reverse designs; commemorative florins; mysterious 'PL' coins; and an adjustment in the composition of silver issues. Embedded in Australian folklore are the 1916 'mule' halfpenny and the 1930 penny.
Among these and many more points of interest for collectors are The Perth Mint's significant contributions. Between 1922 and 1964, 438 million pennies and 256 million halfpennies were made in Perth with identifiers other that its 'P' mintmark made famous on gold sovereigns.
As well as hunting down individual examples, new collectors can kick start their journey with commemorative packs like the Memories of Monarchs and Mintmarks Pre-decimal Collection. A pre-assembled set of Perth Mint pennies and halfpennies struck for George VI and Elizabeth II, each coin features one of the 'dot' mintmarks designed to distinguish them from versions made in Melbourne.
Whatever path is followed, there's no doubt that a huge array of opportunities will arise for those whose interest is sparked by Australia's first Commonwealth coinage.