How to buy and sell precious metals at The Perth Mint
Feb 26, 2021
If you thought buying and selling precious metals was complex, think again.
These days you can diversify your investment portfolio with gold, silver or platinum in a matter of seconds – literally.
In the following examples we will demonstrate how to buy from as little as 0.00001 oz – that's right, an extremely inexpensive way to start building your exposure to gold.
We'll also explain how it's possible to safely store your precious metals in The Perth Mint's high security vaults - for free.
However you decide to start acquiring precious metals from The Perth Mint, it's important to know that as well as being one of the world's most reputable precious metal enterprises, we also offer a unique government guarantee.
Introduction to our services
A popular way to invest in precious metals is by buying bullion coins. The Perth Mint is the home of the official Australian Precious Metals Coin Program, offering a superb range of 99.99% pure gold, 99.99% pure silver and 99.95% pure platinum coins.
Investors all over the world enjoy the annual issues portraying iconic Australian wildlife while gradually accumulating their personal 'stack'. Buying bullion for delivery in this form has many advocates – but the security implications of storing it at home means that it's not for everyone.
As an alternative, The Perth Mint depository has been selling precious metal for storage in its central bank-style vaults to clients ranging from individual investors to sovereign wealth funds since the mid-1990s.
By choosing coins (or bars) from the depository, the metal is stored under your name in one of our vaults. This method is often described as holding 'allocated' metal.
The storage fee associated with 'allocated' can be removed entirely by opting to buy 'unallocated' metal. Not surprisingly, this is the most popular option among our depository clients. You can think of it as the Mint's working inventory - clients choosing 'unallocated' buy into the pool of working metal which we use to facilitate our day-to-day operations (i.e. making blanks, coins, bars etc).
Every ounce of 'unallocated' sold is backed by physical metal in the inventory. As we've said, this storage option is entirely free. Like 'allocated', you can sell your holding at any time.
The following guide explains the different ways Perth Mint clients can access our precious metals and storage options.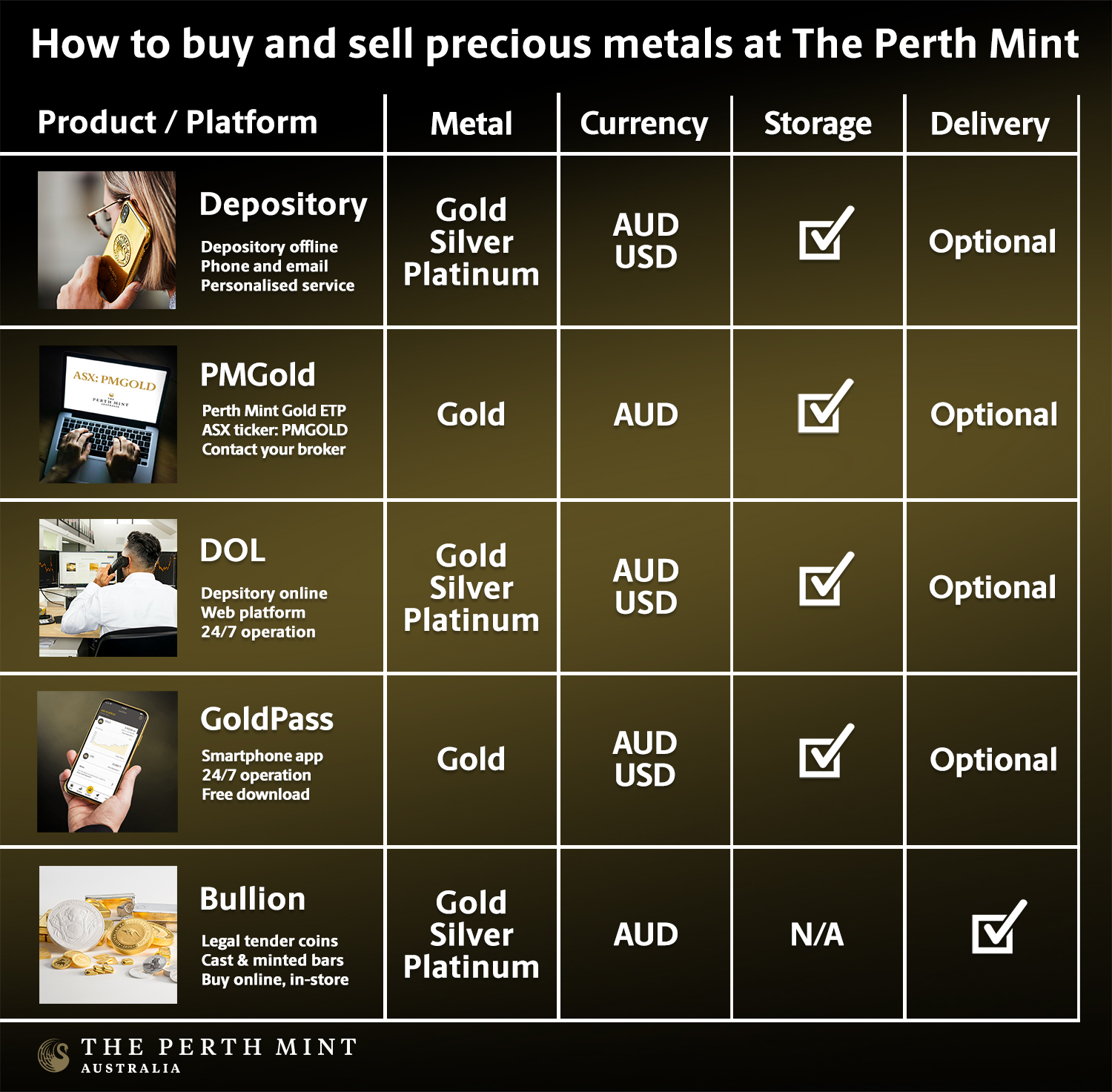 Depository Account
A Depository Account is a premium brokerage style service for buyers who enjoy old-fashioned personal service. Investors are welcome to contact our in-house traders by telephone or email when seeking live spot price quotes for buying or selling. Purchases from AUD 5,000 / USD 50,000
PMGold
PMGold offers investors a simple, low cost way to access the returns on gold through an Australian Securities Exchange stock broking account (Ticker: PMGOLD). Each unit represents ownership of 1/100 oz of gold. Check with your share broker for minimum purchase guidance.
Depository Online Account (DOL)
A 24/7 secure online portal with live metal pricing. DOL is feature rich including email price alerts and a convenient savings plan that enables investors to purchase gold and silver on a monthly basis at a discounted rate of 50% of the applicable transaction fee. Minimum purchase AUD 50 / USD 50.
GoldPass
A 24/7 full-service trading app offering unparalleled speed of transaction allowing investors to buy and sell gold at any time on a mobile device. The app also offers instantaneous transfer of gold to other GoldPass users. Minimum purchase amount 0.00001 oz.
Bullion
The Perth Mint's range of bullion coins and bars are available for sale online and from leading distributors worldwide. Delivery is via secure courier. The internationally renowned range of products can also be bought and sold in the Bullion Trading Room within The Perth Mint Shop.